Our little family was recently reminiscing over funny memories from way back when. You know, when the girls were three and six, instead of the mature ten and thirteen year olds they are now. Especially in light of this coming Father's Day weekend, my oldest daughter remembered something very sweet about her daddy. 
"Dad, remember how I was never scared of monsters in my closet, but I was always terrified of monsters coming down the hall?"
He laughed. "I remember."
She grinned. "But instead of getting mad at me for worrying about monsters coming through my bedroom door, you would grab a toy rifle and march up and down the hallway every night before I fell asleep. Remember that? And you would chant silly soldier rhymes like, 'Hut, two, three, four, no monsters gettin' past my girl's front door!'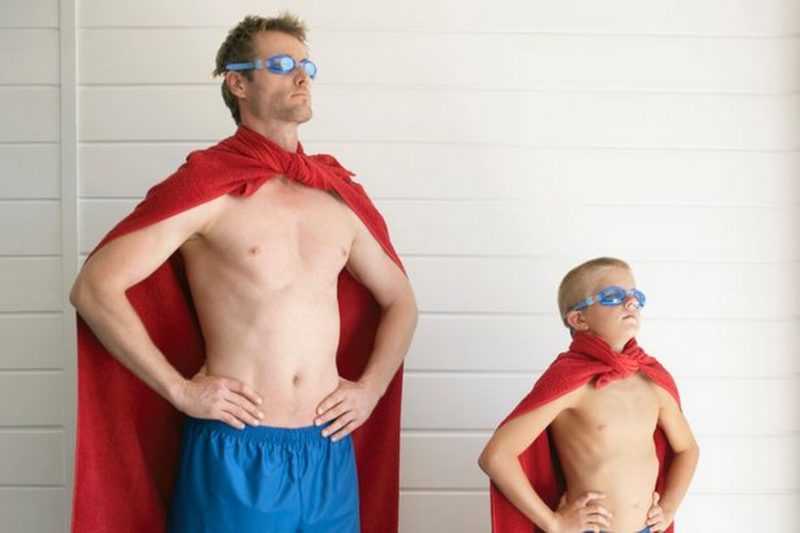 My heart melted hearing the treasured memory she had stored away. Why had that particular remnant from her childhood held fast when so many others had siphoned away? Because protection is powerful. It shows the measure of true love and the lengths it will go to save the one it loves.
Real men, real fathers protect. Whether the fear is real or imagined, good fathers fight away the dragons while their princesses clutch their battered teddy bears until those quivering shadows melt into sweet slumber. And even now as a thirteen year old, I frequently have to remind my daughter that Dad's rules about modesty that seem so outdated to her, or the rules about technology that seem so rigid, are born from the same protective heart that marched up and down the hallway for hours chasing away the monsters…his goal is ever and always to protect her.
Maybe you've never known the love of a father like this, a man who would give his very life to save yours. Earthly fathers and husbands, even the good ones, will fail us but there is One who is desperately yearning to call you His daughter. He's waiting with open arms. Best of all? He will never fail you. Ever. His specialty is unconditional love and it's best seen in the way He protects His children.
"To You, O [God] my strength, I will sing praises; For God is my stronghold [my refuge, my protector, my high tower], the God who shows me [steadfast] loving kindness." ~Psalm 59:17 AMP
"A father of the fatherless and a judge and protector of the widows, Is God in His holy habitation." ~Psalm 68:5
If you've spent your lifetime searching for the love of a man, whether that be a father, a husband or a boyfriend, and you've been hurt over and over again, broken and left more empty than before, run to the One who wants to be the Father you've dreamed of. He'll be your comfort, Protector, Friend and Savior. He'll be the Daddy willing to march up and down the hallway chasing away the monsters that leave you trembling in fear…whether they are real or not. What is important to you is important to Him. He sees you. He loves you. He's waiting. 
"I will lift up my eyes to the hills—
From where shall my help come?
My help comes from the Lord,
Who made heaven and earth.
He will not allow your foot to slip;
He who keeps you will not slumber.
Behold, He who keeps Israel
Will neither slumber [briefly] nor sleep [soundly].

The Lord is your keeper;
The Lord is your shade on your right hand.
The sun will not strike you by day,
Nor the moon by night.
The Lord will protect you from all evil;
He will keep your life.
The Lord will guard your going out and your coming in [everything that you do]
From this time forth and forever." ~Psalm 121
I would love to hear from you. Do you have fond memories of ways your father made you feel loved? In what ways has God been the Father you've always longed for? How often do you think of God as your Protector?