I have three dogs that keep me hopping. All different breeds, all different ages. Their favorite thing each day is for me to walk them around our neighborhood. It's not an easy task. Trying to keep three dogs in pace with varying temperaments and attitudes can be tricky, but God has taught me a lot about myself and my relationship with Him as I've wrestled my wild canines and herded them through our quiet streets.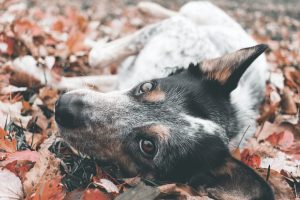 Brieanne is an 8 month old blue heeler and is strong as an ox. She's 50 pounds of solid muscle and pure energy. All that baby girl wants to do is run, run, run! She's enthusiastic about everything. Dirt. Squirrels. Birds. Trash. Her goal is to get to the next thing as quickly as possible. It takes all of my strength to keep her restrained when a car rushes by. She lunges and pulls, pants and slobbers, with no concept of how she is stresses the two little dogs along on the walk. She has no concept of the danger lurking around every corner. She's happy but impulsive. A laughable ball of fun, but if I let her have her way, she'd be dead in a heartbeat.
I can relate. I've been that way often in my walk with God. Always straining to push past His will. Resisting His gentle tugs. Wait, Tara. Be still. Trust Me. I wonder how many disasters He's saved me from and I had no idea.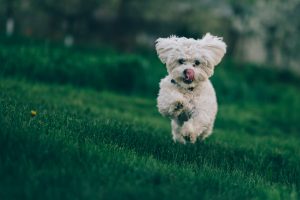 Then there's Elvis, a ten year old poodle mix. Elvis is pretty easy to walk most of the time. He prances along, keeping pace,  and being a go-with-the-flow guy until…BOOM! He wants something. Whether it's an interesting smell or a trail he's never explored, once that dog's mind is made up, he will. Not. Budge. He stubbornly digs his paws into the ground, bucking against the leash like a mule. Elvis was once dubbed the most stubborn dog ever encountered by not one but three groomers.
I can relate. I'm all about following God until His plan bumps into my preconceived notions of how I thought things were supposed to be. Then I balk. I buck. I question. I dig in my heels. That's when God has to correct me and get me back on the right track again.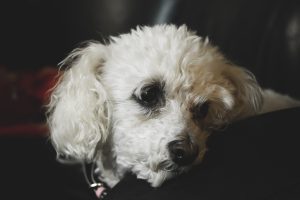 Finally, I'll introduce you to Sugar. Sweet, elderly Sugar. She's 14, completely deaf and mostly blind. The poor thing is riddled with arthritis and touches of doggie dementia. She can no longer wear a leash because she chokes easily, but she adores walking. She doesn't run but follows in my shadow, keeping pace with my steps. Wherever I go, she follows. Her inability to hear doesn't concern her as long as she can see the outline of my presence. 
The few times where Sugar has lagged behind or been distracted by a wayward smell, I pull the other two rambunctious dogs to a stop and go back for Sugar to make sure she can see my shadow once again. When her body grows too tired to keep up with Brieanne's bursts of energy, I pick her up and carry her the rest of the way.
I want to be like Sugar. Following in my Savior's shadow. Keeping pace with His every move, His touch, His heartbeat.
Sugar and I, yeah, we get each other. We've been walking together for a long time. Maybe that's the secret. A relationship forged in time and trust.
I pray it's that way for Jesus and me.