In part one, we looked at the very real possibility that many of us, although we accepted the freedom Jesus bought for us, continue to have our minds and emotions stuck in the 'slavery mindset'.
It conditions a person to accept harmful circumstances to themselves as the natural order of things. They view their own worth through their master's eyes. They believe about themselves what they have been told to believe, whether it's true or not.
The dichotomy between our freedom and the slavery mindset is like longing for a certain gift, yearning for it, building our hope upon it, only to have our hands chained behind us so we are unable to enjoy the gift once it's been placed before us.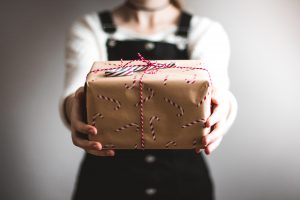 I don't know about you, but when I give a gift to someone, it's because I love them and want them to enjoy it. When Jesus gave up Himself to redeem us from the land of darkness, He wanted us to enjoy our freedom…to relish and delight in our new found joy and love. Yet some of us are sitting in a land of freedom with our minds still stuck in the land of darkness. Our spirits have been set free but our minds and emotions remained locked on our past mistakes or the lies we've always believed about ourselves. What a tragedy!
So how do we snap off the chains?
1. Forgive those who have wronged you. Sometimes that involves forgiving yourself.
Unforgiveness is like strapping someone to your back and dragging them around. Who suffers more…the one tied or the one doing the dragging?
It's hard to walk in freedom with a chip the size of a boulder weighing you down. And that's what unforgiveness is—a burden, a weight that darkens the light and leaves oppression in its shadow. Yes, that includes refusing to forgive yourself.
Not long ago, my two year old son fell outside on the driveway and scraped up his hand. At the sound of his wailing, his sisters and I ran to his side. When the girls tried to convince him to let them see, he covered the scrape with his chubby fingers and jerked away from them with a teary scowl. Why? Because he didn't trust them with his boo-boo. He'd been victim of their teasing enough to wonder if they were trust worthy. Would they tease him? Laugh at him for being melodramatic? Unintentionally make the hurt worse by poking and probing? No, letting them see was too risky.
What do we do with a wound? Usually we try to hide it.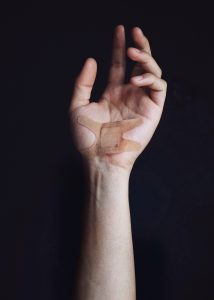 But when I walked up and knelt down in front of him with sympathy, he finally uncovered his injured hand to let me examine the damage. He trusted me not to hurt him anymore than he'd already been wounded.
And here's the thing…there was no way for me to give him the help he needed until I could understand how severe his injury was. Once he was brave enough to lift his chubby fingers away from his wound, I could begin to treat it. Because he trusted me, I was able to wash it, clean it with hydrogen peroxide, bandage it and kiss it until his tears subsided and he was playing once more.
This is a beautiful parallel to what happens in our own lives. Some of us have lived with the crippling shame of sexual, verbal or physical abuse. Some of us have been told we're unwanted or unloved. Some of us can't seem to shake depression or are mourning the loss of a loved one. Some of us have a childhood that we barely survived or an adulthood that has left us disillusioned and depressed. Some of us are victims of our own horrible mistakes.
And just like Nate covering his scraped palm, or dealing with a throbbing finger that has faced the fury of a wayward hammer strike, we cover our hurt, wrapping our fingers around the searing pain, keeping it concealed, restrained and locked away from prying eyes. We don't want anyone to see, anyone to know. The pain is too deep, the vulnerability too precarious.
But here's the thing…God can't heal what we are unwilling to expose to him.
When we are brave enough to come to Him with all of our shame and broken pieces, His light and love can start to heal those nasty wounds and help us forgive those who have wronged us—even when it's ourselves.
2. We can't dance in the freedom of Christ if we continue to conform our lives to the pattern of the world around us.
The world is a deceptive illusion of prosperity that ultimately offers death and decay. As God's redeemed, we have been set free from that decay. So why do we continue to value what the world says is valuable? And why do we pattern our lives and priorities after an illusion we know won't satisfy?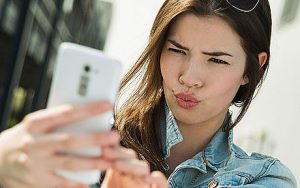 Our culture is obsessed with beauty and perfection. It values intelligence but not wisdom. It says to 'make your mark on the world' by scraping up more stuff, more gadgets, more money, more degrees and more power. The focus of our culture's obsession is, "Look at me, because it's what I want and it's all about me. My wants. My needs. My desires."
What we value determines how we live. Make no mistake, if we aren't fighting the pull of our culture's influence, we are being sucked into it. The battle is for our minds.
"Do not conform to the pattern of this world, but be transformed by the renewing of your mind. Then you will be able to test and approve what God's will is—his good, pleasing and perfect will." ~Romans 12:2
The world says I'm only as beautiful as I am sensual, but God says beauty is a life devoted to Him.
The world says it's all about me, but God says joy is found in laying down my wants to serve others.
The world says happiness is found in what I've acquired, but God says happiness and joy are only found in Him.
The world says to conform, but God says He made you for a unique purpose. Embrace your individuality.
The world says, "It's my life. I can do what I want." But God says, "You were bought with a price. Honor me."
The world says my worth is determined by my accomplishments, but God says my worth is found in Jesus.
The world says I must be flawless to be accepted, but God says though I'm flawed, I am loved.
Don't pattern your life after an illusion that is meant to destroy you.
3. Refuse to let anyone or anything become more important to you than Jesus. A person is a slave to whatever has mastered him. (2 Peter 2:19) How many of us try to pinpoint our happiness in things that are temporary and, ultimately, unsatisfying?
Here are some of our most common 'gods':
Possessions
Food
Relationships
Busyness
Our children
Alcohol
Financial 'security'
Power
Accomplishments
Fame
Approval
Anytime we place something other than Jesus as the focal point of our lives, we are setting ourselves up for heartache. He is the One who died to free us. He is the only One who never changes. He is our security. He should be the focus of our obsession.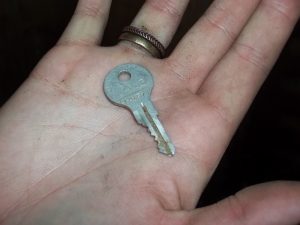 "It is for freedom that Christ has set us free. Stand firm, then, and do not let yourselves be burdened again by a yoke of slavery." ~ Galatians 5:1
I pray these 'slavery' busters will be a help for you. They are keys, tools made to help you realize God has so much more in store for you than feeling stuck or defeated. Freedom is there. Grasp it. Cling to Him with all your might. When we do, we look down to realize those chains have fallen away in the process.
"You shall know the truth and the truth will set you free." ~John 8:32