The world has gone mad, or it seems so at least. No sooner do I hear the news of the latest round of men accused of misconduct, then the media buzzes with shocked outrage of yet another celebrity falling from his golden pedestal. From Harvey Weinstein to Matt Lauer, the names and stories are horrifying and heart breaking.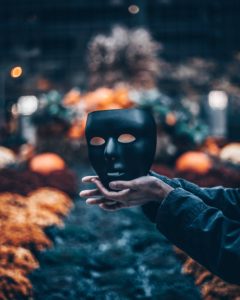 "For nothing is hidden that will not become evident, nor anything secret that will not be known and come to light." ~Luke 8:17
Then there are those who are now being wrongfully accused by money-hungry women, eager for a quick check and their fifteen minutes of fame. All of it shreds my heart.
What we focus on becomes our obsession, and our obsessions frame our choices. Our choices set our feet on a path and that path determines our life. It is incredibly important to guard our hearts and minds. Those two fertile areas are the battlegrounds for our spiritual health, our emotions, our physical health, our joy, our daily peace and our future.
Obviously, the guilty must seek to right the wrong they've inflicted. It's easy to point fingers, but something has been gnawing my spirit for weeks.
When we fill our ears and minds with sexually-laced music, flood our eyes and thoughts with television shows and movies filled with the same, engage in posting immodest photos and looking at others' scantily clad images, our hearts are feasting on the same appetites as those we rip apart in the headlines.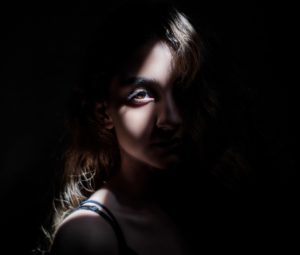 I'm calling you out Luke Bryan. "Country girl, shake it for me, girl" is not something I want my daughters listening to or thinking it's okay to have a boy ask them to do. That song, and so many others like it are trash.
Television shows that glorify gossip, drama, family dysfunction, nudity, and a guy who has to try out twenty different women because he can't figure out which one he likes is nothing that will help us draw closer to Christ. It will actually poison our walk. That's right. I'm calling you out too, Bachelor and Kardashians. (Not to mention about 1,879 other shows currently on the TV.)
A recent quote by John MacArthur hit me hard. He said, "We should not be entertained by the sins for which Christ died."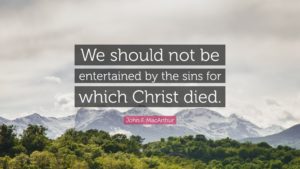 Ouch.
Speaking for myself, I need to do better. I want to love Jesus more than I love that popular show, that catchy tune or anything else in my life. And it's hard…so hard sometimes to battle what my old sin nature craves against the new person that I am in Jesus, yet I have been made new.
"…regarding your previous way of life, you put off your old self [completely discard your former nature], which is being corrupted through deceitful desires, and be continually renewed in the spirit of your mind [having a fresh, untarnished mental and spiritual attitude], and put on the new self [the regenerated and renewed nature], created in God's image, [godlike] in the righteousness and holiness of the truth [living in a way that expresses to God your gratitude for your salvation]." ~Ephesians 4:22-24 AMP 
Each day I must choose to cast off the things that nailed Jesus to the cross. I should toss them away like filthy, ragged clothes bound for the trash bin. That is the only way to let Him renew my mind and give me joy and peace for the day. Those seemingly small decisions become the big decisions that shape lives and futures. Not just our own futures, but the lives of our children and grandchildren as well.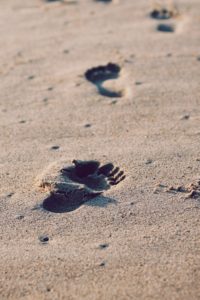 This world has always been steeped in chaos. There's nothing more the enemy wants than to see our hearts and minds willingly handed over to him. He tells us dabbling with these things is harmless. It's fun. Be on guard. The one who promises us pleasure will soon be our accuser. He's done it with people like Harvey Weinstein and Matt Lauer. You and I are no different.
I'm so thankful for Jesus, who saw our every flaw yet chose to love and die for us anyway. If I'm going to live for anyone, I want it to be for Him.