For the past several years, I've asked God to give me a word or phrase to meditate on during the course of the year. They usually revolve around an attribute of His, and boy, have I learned a lot by this practice. Last year's word was presence. I actively sought to put aside my to-do list to seek Jesus and His presence. Mary of Bethany is one of my favorite people in the Bible because whenever we read about her, she is found at Jesus' feet. That's how I want to live.
I prayed about this year's word for weeks and God spoke in a soft, gentle whisper to my heart. Hands.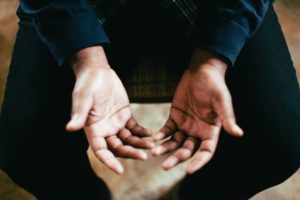 Hands? I didn't get it. I kept trying to tell Him to pick another one but He hasn't budged.
Okay, so hands is the word for this year.
I opened my Bible and was overwhelmed by the sweet words the Holy Spirit spoke to me concerning hands. Here are a few:
"Both riches and honor come from You, and You rule over all. In Your hand is power and might; and it is in Your hands to make great and to give strength to everyone." ~1 Chronicles 29:12
"My times are in Your hands; Rescue me from the hand of my enemies and from those who pursue and persecute me." ~Psalm 31:15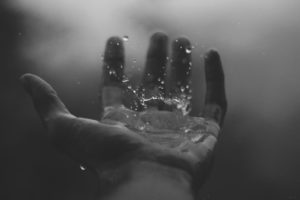 "Your hands have made me and established me; Give me understanding and a teachable heart, that I may learn Your commandments." ~Psalm 119:73
"I reach out my hands to You; My throat thirsts for You, as a parched land [thirsts for water]." ~Psalm 143:6
"Indeed, I have inscribed [a picture of] you on the palms of My hands…" ~Isaiah 49:16
"Then again Jesus laid His hands on his eyes; and the man stared intently and [his sight] was [completely] restored, and he began to see everything clearly." ~Mark 8:25
There were hundreds of other verses, many of them contrasting the difference between the works of men's hands, versus the works of God's hands. What you and I build will eventually fail, grow old or decay, but the works of God's hands will live forever. So much to contemplate. So many great truths that can be gleaned. And of course, the most precious hands that ever graced our planet are the nail-scarred hands of Jesus.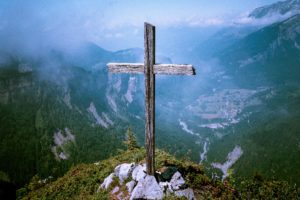 "Then He said to Thomas, "Reach here with your finger, and see My hands; and put out your hand and place it in My side. Do not be unbelieving, but [stop doubting and] believe." ~John 20:27
My mother has spent the past week in the hospital. As I've contemplated these verses, God has sweetly reminded me she is held tightly in His hands. There is no safer place to be.
As I drove home from the hospital, a song drifted through my speakers. It was a song I'd heard before but never paid much attention to. The words pierced my heart and flooded me with tangible peace. Consider these words from Tenth Avenue North:
Here I am, all my intentions
All my obsessions, I wanna lay them all down
In Your hands, only Your love is vital
Though I'm not entitled
Still You call me Your child
God, You don't need me, but somehow You want me
Oh, how You love me, somehow that frees me
To take my hands off of my life and the way it should go
Oh, God, You don't need me, but somehow You want me
Oh, how You love me, somehow that frees me
To open my hands up and give You control
I give You control
I've had plans shattered and broken
Things I have hoped in, fall through my hands
You have plans to redeem and restore me
You're behind and before me
Oh, help me believe
You want me
Somehow You want me
The King of Heaven wants me
So this world has lost its grip on me
                             Copyright 2016. Reunion Records. Tenth Avenue North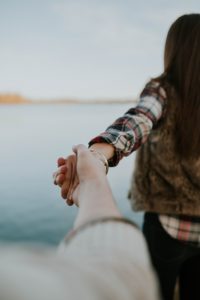 I'm shaking the grip of the world and running towards the outstretched hands of Jesus.
And I've decided hands is a pretty awesome word, after all.