My home is known as the Hibiscus House on our little road.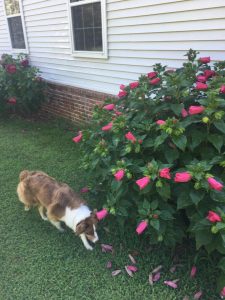 The tropical plants are everywhere, blooming as huge bushes with hand-sized blossoms. Pinks, crimsons and even a few white-blush hibiscus surround our house. The original starters were put it in intentionally, hoping to attract migrating hummingbirds. Boy, did they.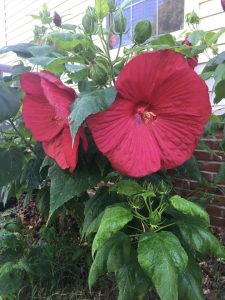 These gorgeous flowers, along with my ability for growing green beans, somehow made me think my gardening abilities were greater than they were. I had one good year growing zucchini so I quickly dubbed myself the zucchini master. Year two rolled around and my plants flopped. I shrugged the failure off. Every farmer has an off season now and then. The next summer would be better.
That's what I told myself the next four years as I killed every zucchini plant that crossed my path.
Soil Ph, seed quality, too much water, not enough water, too much sun, not enough sun…I analyzed it all. No matter what I did, those little boogers curled up and died as if I'd dumped bleach on them every night. I tried just growing one zucchini plant this year, fearing it would turn out like all the others. And it did. Dead.
I was forced to face the awful truth: I am not the zucchini whisperer.
Three days ago, I stepped out on the front porch and inhaled the fresh morning air when bright yellow blossoms snagged my attention. I frowned and blinked. These buttery blossoms were huge and woven right through my biggest hibiscus bush in the front flower bed. Had half of the plant's blossoms turned yellow overnight?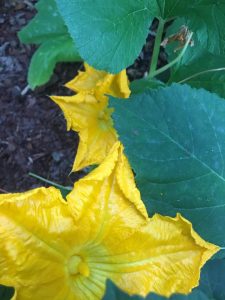 Impossible.
I stepped closer and realized the leaves curling near the huge yellow blooms were far different than the rest of the hibiscus plant. I sat back in shock. There is was. Out of nowhere.
The biggest zucchini plant I had ever seen.
I had never planted one there, yet it was winding it's way through my massive hibiscus. It was large and glorious and covered with blooms. Far too late in the season and with no discernable seed origin.
Bizarre.
All my striving and working came to nothing but one day…BAM! God decides to drop the mother ship of zucchini plants in my front flower bed. No explaining it. No way I could take credit for it. It was all Him.
I think that happens in my life more often than I realize. I spend so much time trying to do things on my own, achieve the next new thing and fall flat on my face. It takes failing to make me realize how great the need is for a Savior. Then, when I least expect it, He shows out in the most profound ways. Where my weakness falls short, He steps in to show Himself great.
Even with zucchini plants.