Guys, sometimes we just need to stop. Stop and think about what we say. Words have power. They have meaning. What we say can build up a life or destroy it. The phrases we so easily fling from our lips can stir up hate and violence, or bring peace. They can cause someone to run to the arms of a loved one, or dash away into the night. They can bend the thoughts of the wise or crush the weak.
Sometimes, I think we hear phrases so often, we regurgitate them as if they're the gospel. Let us never confuse Christian culture with scripture, or a frequently-told tale with the words of Jesus.
Anymore, I'm starting to feel like Dwight Schrute when I hear these well-meaning but erroneous clichés tossed around.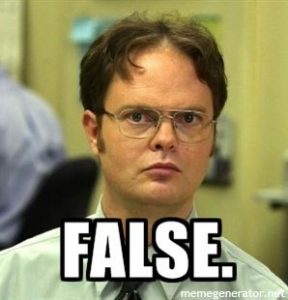 "God gives his toughest battles to his strongest soldiers." FALSE.
The blunt truth is, we're not strong enough to handle our storms. Speaking for myself, I have trouble getting through the day-to-day stuff, much less the big stuff that life throws us: the cancer diagnosis, the job change, marital stress, wayward children, financial difficulties, cranky people, etc. We all go through tough, messy stuff and a sure way to make a messy situation even worse is to think we can handle it on our merits and abilities.
God doesn't give us those battles because He thinks we've got it together. If we did, we wouldn't have needed a Savior. Sometimes, we go through some tough stuff because we need to work on our weak areas, our sin-filled cracks that we've so desperately tried to cover up. He has to strengthen us, toughen us up to prepare us for something greater on down the road.
2. "Love the sinner, hate the sin." FALSE.
If I want to walk, talk and be like Jesus, I must view people with the same heart Jesus did. Jesus never once told his disciples, or anyone else, to 'love sinners'. He said, "Love your neighbor". (Matthew 22:36-40; Mark  12:31)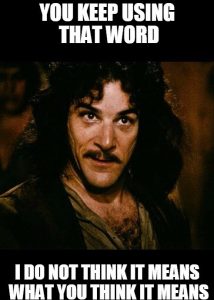 When we set up a precedent of saying "Love the sinner", we are in effect placing ourselves in a place of spiritual comparison. Of superiority. "My sin is not as bad as theirs." Can you hear the pride and condescension?
Jesus died for all men and women, boys and girls, race and nationality, offender, dictator and criminal. He loves us all. I don't have time to be worrying about everyone else's sin issues. I have enough of my own.
I think a much better thought would be, "Hate sin. Love your neighbor. Jesus will handle the rest."
3. "Sometimes God will put a Goliath in your life so you can find the David within you." FALSE.
The whole David-versus-Goliath story had nothing to do with the power of the little guy to overcome the big, mean giant. It had nothing to do with God "putting" obstacles in your path so you could rise up and find some warped kind of self-empowerment to flood your ego.
David took on Goliath because he was angered that the swaggering Philistine was defying God and His power.
"David said to the Philistine, "You come against me with sword and spear and javelin, but I come against you in the name of the Lord Almighty, the God of the armies of Israel, whom you have defied. This day the Lord will deliver you into my hands, and I'll strike you down…" (1 Samuel 17:45,46)
David was indignant over God's Name. He fought for His glory and His honor. Nothing else.
4. Speaking Christianese
There's nothing more isolating to those who are already curious about believers that to see us laughing, joking, talking like normal folks and then launch into a prayer that resembles a reading from Monty Python's Holy Grail. "We thankest thee, O God, for Thine Holy protection. We beseech Thee to smitest all our foes…"
We don't speak in Middle English anymore. (Which was actually not pure English at all, but a mix of English and Norman French, which is why so many people have trouble understanding it in our modern era.)
God transcends time, space, our understanding, and definitely, our generation. Trust me…He can handle you talking to Him in everyday words. He sees our hearts. He knows our thoughts, and he hears our words…whether they end with a 'est' or not. 😊
I would love to hear from you. What cliche drives you bananas?