Jean size. That dreaded number on the scale. Checking account balances. Facebook friends. Instagram and Twitter followers. Awards and degrees. Points scored by your child at his last game. Job performance evaluations.
So many numbers and none of them are good or bad when rattled off in isolation. The only time we have a problem with any of the above is when we are tempted to compare these numbers to the stats of others.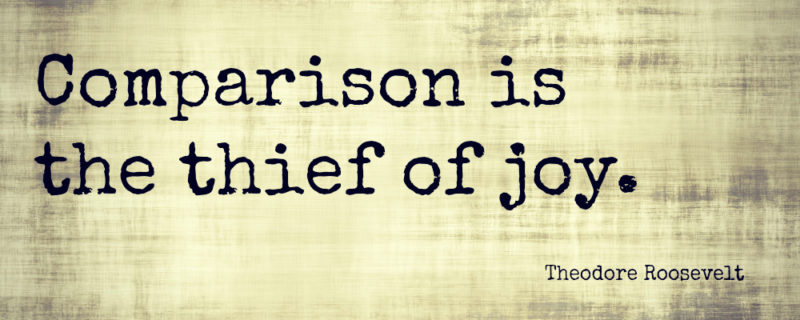 Teddy Roosevelt once said, "Comparison is the thief of joy." So true. Not only is comparison a thief, it's also a terrible judge. Speaking for myself, I tend to compare myself either to those who are way more put together than I am, or I compare myself to those who can't seem to get their act together at all. The Ree Drummonds, June Cleavers and James Dobsons of the world leave me wallowing in self-loathing, wondering why I can't seem to get my hot mess of a life in shape. So instead I look to those who are further down on the proverbial 'getting-their-garbage-handled' totem pole and say, "Well, at least I'm not as bad as that."
But does looking down at someone else's mess make me any better of a mother? A wife? A friend? A sister or daughter? No. It just makes me more prideful…and a much bigger pain.
That's the problem with comparing ourselves to anyone else. It forces us to ride a pendulum that swings between pride and the lie that says, "You're not good enough."
The disciple Peter battled the same issue in John 21:19-22.
"He [Jesus] said to him, 'Follow Me [walk the same path of life that I have walked]!'
Peter turned and saw the disciple whom Jesus loved following them; the one who also had leaned back on His chest at the supper and had said, 'Lord, who is it that is going to betray You?' So when Peter saw him, he asked Jesus, 'Lord, and what about this man [what is in his future]?' Jesus said to him, 'If I want him to stay alive until I come[again], what is that to you? You follow Me!' " (AMP)
God designed each of us with a unique purpose in mind…a purpose we do our best to throw away when we compare and long for the bodies, the families, the plans, the dreams, the goals, the bank accounts or the lives of others. Comparison breeds discontentment and discontentment leads to every other sin we struggle against.
God made only one you. There is only one person with your exact fingerprint. Only one with your exact strand of DNA. "For we are God's handiwork, created in Christ Jesus to do good works, which God prepared in advance for us to do." (Ephesians 2:10)
Keep your  joy full today. Be who you were created to be. No comparisons allowed.